You are here
HLPF 2022: #culture2030goal side-event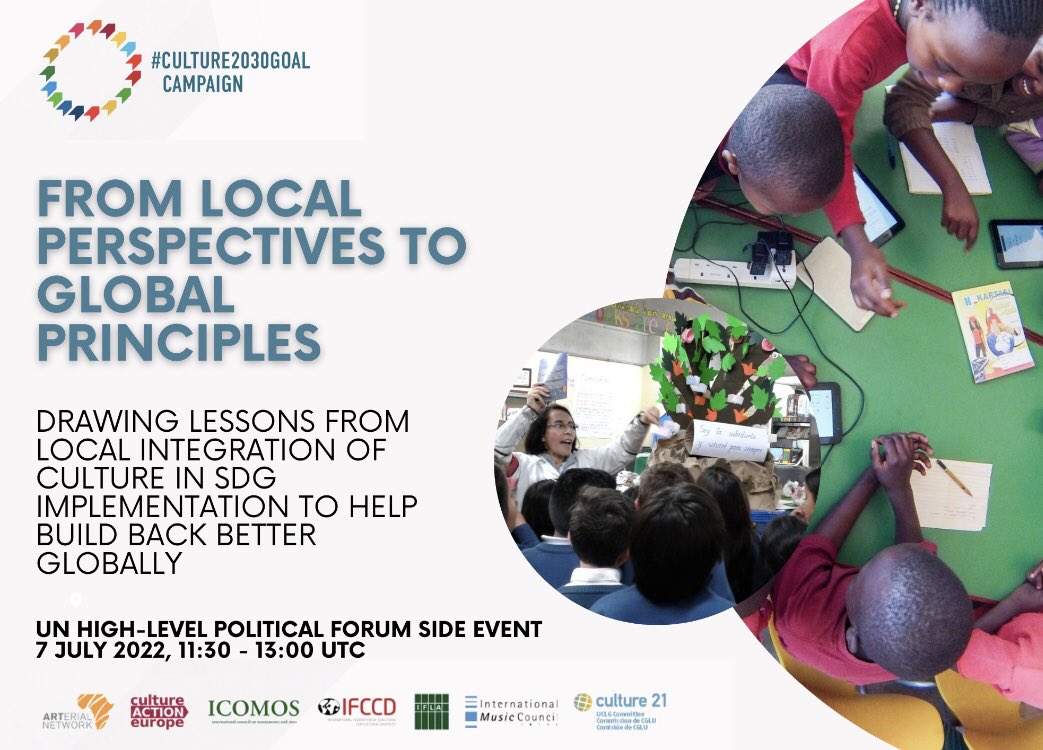 From Local Practice to Global Principles: Recording of HLPF Side-Event Available
You can now watch again the side-event organised by the Culture 2030 Goal campaign at the 2022 United NationsHigh Level Political Forum (HLPF), highlighting how cultural actors, institutions and considerations are being integrated into local development strategies, and the lessons this offers for efforts to deliver sustainable development by 2030 and beyond.
In publishing its report on the place of culture in Voluntary Local Reviews in September 2021, the Culture 2030 Goal campaign shone a light on the good practice in many local and regional governments concerning the integration of culture into comprehensive development strategies.
While there is of course room for improvement, there is also a huge amount of experience at the local level that can inform actions at the national and global levels, and so allow for greater policy effectiveness and inclusiveness, as well of course as promoting cultural rights, the cultural sector and the people who work there.
This was the focus of the side-event organised by the Culture 2030 Goal campaign at the 2022 UN HLPF, the key event in the annual sustainable development calendar bringing together UN agencies, governments at all levels, NGOs and experts.
Ege Yildirim, independent cultural heritage consultant, presented the Culture 2030 Goal report on Voluntary Local Reviews, underlining the clear evidence that local and regional governments are more advanced than national counterparts in their work with culture. She also pointed to the diversity of ways in which culture features in reviews of SDG implementation, from being a source of pride and identity to an enabler of policy success across the board.
Enrique Avogadro, Minister of Culture of Buenos Aires, highlighted three strong examples of initiatives that underlined how cultural policy, when applied smartly, can make a difference to development. Through building up relationships and respecting the independence of both creators and audiences alike, Buenos Aires had been able to encourage a flourishing cultural ecosystem that made the city as a whole stronger.
Stefan Volkmann, consultant at KPMG, drew on his experience of working with Medellin, Colombia and Hume, Australia, both places which struggled with inequality, poverty and insecurity. In both cases, libraries had formed an important part of regeneration efforts, providing communities not only with a new focal point, but also a space for activity and interaction. These projects had been successful, but had required visionary leadership and a commitment over time to succeed.
Loida Garcia Febo, international library consultant, drew on experiences from New York and Los Angeles in the United States, where libraries, as part of the wider cultural infrastructure of cities, had been inventive and proactive in identifying development needs and actions that could respond to them. In particular, they had looked to make the most of their position at the local level, and accessibility to all members of communities.
Ayanda Lebele, Director of Library Services at Botswana International University of Science and Technology highlighted how libraries in the country drew in parallel on centralised support from the national library service, aligned with national development goals, and a responsiveness to needs and strategies at the local level. She also highlighted the particular role of libraries in safeguarding and promoting local and indigenous cultures.
In terms of overall recommendations from the session, participants reiterated the importance of the meaningful inclusion of cultural actors not just in the implementation but also the planning of policies, of visionary leadership and of a readiness to plan for the long term.
There was also agreement on the need to set out clearly what is already being achieved, thanks to the integration of culture, across the 2030 Agenda. Crucially, it was important to make these benefits clear not only to people within the cultural field, but also outside. To this end, ensuring that culture is explicitly seen as a goal in future development agendas will be key.
View the session again on YouTube here.