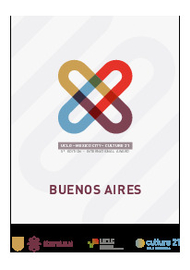 Abasto cultural neighbourhood: economic boost and urban regeneration
BUENOS AIRES (ARGENTINA)
The project "Abasto cultural neighbourhood: economic boost and urban regeneration" is promoted by the Ministry of Culture of the City of Buenos Aires since 2019. It is an urban regeneration project based on the transformation of public space, drawing on a model of participatory governance of culture that promotes the collective creation of identity and social integration, enhancing the activity of the independent cultural spaces that distinguish the Abasto neighbourhood. The project has invested in infrastructure, leading to improvements in the public space such as increasing pedestrian accessibility and enhancing the quality of life of neighbours. It has also promoted the cocreation with the communities, allowing the implementation of a participatory governance model in which public space is understood as a stage and platform for cultural activities, and it has relied on the value of local cultural industries, boosting the reflection and shared construction of the tangible and intangible identity features of the communities as driving forces for social integration. Impacts include a better articulation of the cultural supply of the neighbourhood and its relationship with cultural space, the reduction of inequalities within the community and the enhancement of the diversity of local cultural expressions.
See the summary of Buenos Aires's project "Abasto Cultural neighbourhood: Economic boost and urban regeneration".  
See the article on Buenos Aires's "Abasto Cultural neighbourhood: Economic boost and urban regeneration" project.