You are here
1st Culture Summit - Bilbao 2015
UCLG Culture Summit 2015 - Bilbao
The first UCLG Culture Summit was hosted by the City of Bilbao (Basque Country, Spain) from the 18-20 March 2015, with the title "Culture and Sustainable Cities".
It is an event to promote knowledge-sharing and networking of cities and local governments, recognizing the important place of culture in sustainable cities. It gathered all key stakholders in the promotion of cultural policies, with special emphasis on cities, local governments and urban actors. The following documents are the results of the Summit:
The first UCLG Culture Summit offered the members of the Committee on Culture of UCLG the opportunity to present, approve and adopt "Culture 21: Actions", and it showcased the best projects of the first edition of the International Award "UCLG - Mexico City - Culture 21". Additionally, the results of the Pilot Cities porgramme were presented. The Summit also connected the UN Post-2015 Development Agenda and culture, building on the work carried out in the process of defining the Sustainable Development Goals (SDGs), particularly #culture2015goal and #UrbanSDG. It was an occasion to exchange with the international community and UN Agencies as well as civil society organizations.
The Summit also held the 12th meeting of the Committee on Culture of UCLG.
---
Check out the key speeches that Ms. Catherine Cullen, President of the Committee on Culture of UCLG ; Mr. Daniel Innerarity, profesor of social and political philosophy and Inkerbasque researcher at the University of Basque Country, Ms. Farida Shaheed, Special Rapporteur of United Nations on Cultural Rights gave during the Summit, and Mr. Ibon Areso, former Mayor of Bilbao: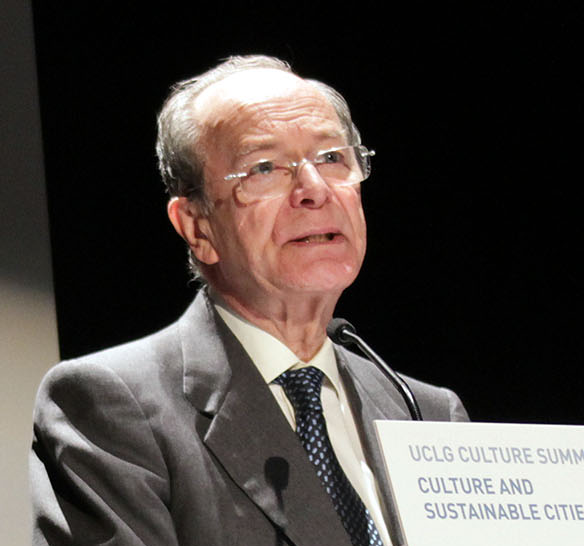 Ibon Areso
Link