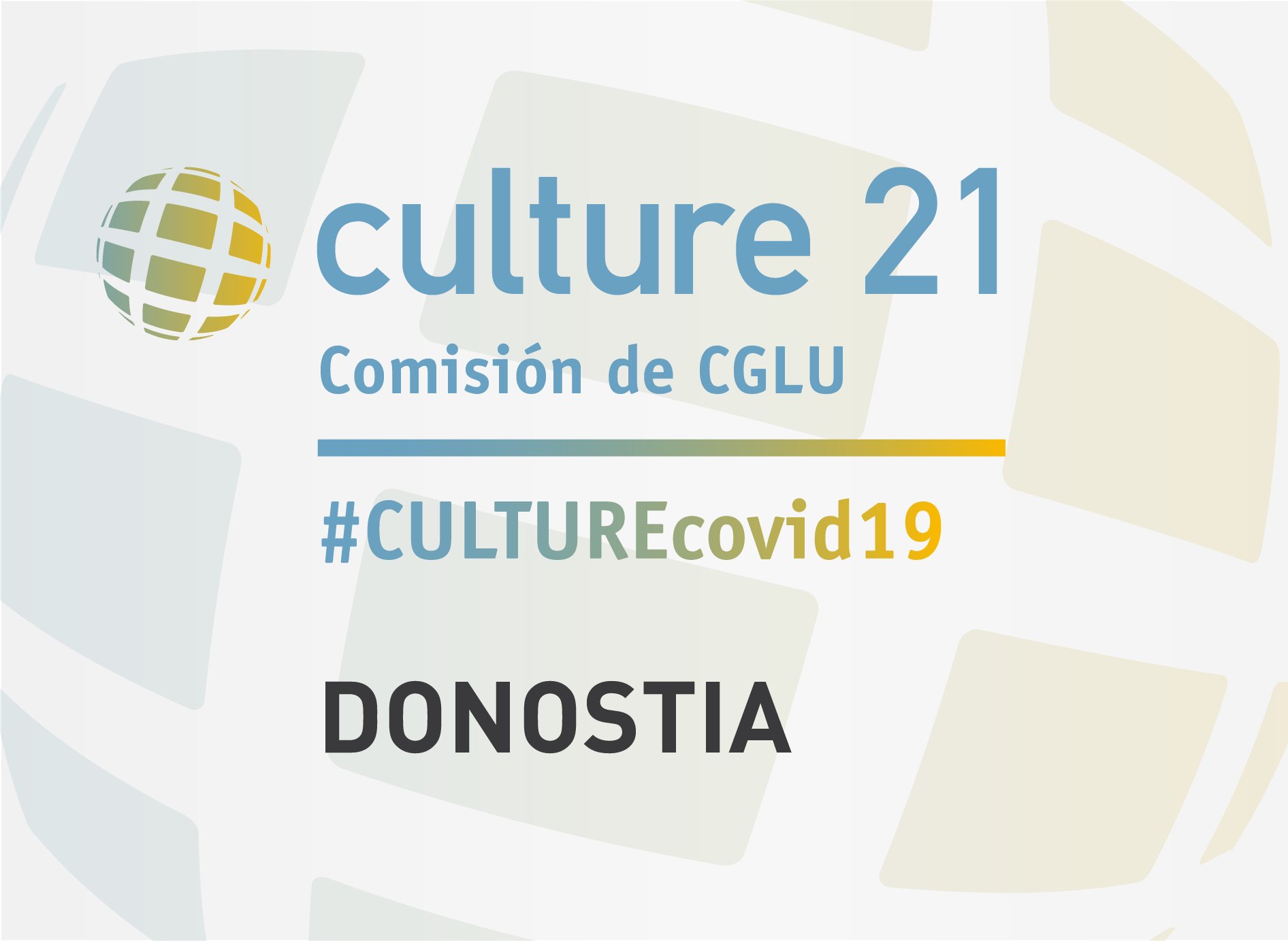 #DKEtxean: report on a cultural schedule during the lockdown
 
12 MAY 2020
The virtual schedule operated by Donostia Kultura, DKEtxean, has now come to an end six weeks after it was created, with both objectives achieved: assistance to consumers and the usual culture enthusiasts during the lockdown. The second objective was to provide support for creation and local authors during this difficult phase.
During this period, more than 100 authors or individuals took part with 134 creations (videos, stories, illustrations or online chat spots), all original material. All these activities have been compiled and are available for consultation at Donostia Kultura On!
We added a link to the video-summary and making-of for the Izaro concert on Friday 8 May from the roof of the Victoria Eugenia Theatre.
Grand finale with IZARO live from the Victoria Eugenia Theatre.
On Friday 8 May, this phase of Donostia Kultura's virtual schedule came to an end with a special concert. From the roof of the Victoria Eugenia Theatre. The IZARO streaming event was an extremely personal concert against a backdrop of the present situation, just after the release of their "Tiempo ausente" single, also inspired by this period of lockdown.
At 19:00 h, IZARO put the finishing touch to the DKEtxean line-up in a 40-minute trio (Izaro Andres, vocals and guitar; Iker Lauroba, vocals and guitar; Garazi Esnaola, keyboards). The concert had almost 2,100 live followers, and has already topped 15,500 hits on YouTube.
La Hora del Cuento was the DKEtxean star turn from the outset. Every day at 16:00 h the youngest members of the family crowded round the TV or their PCs to hear our storytellers: Lur Korta, Saioa Aizpurua, Amaia Puin, Iraitz Lizarraga, Kattalin Ansorena, Izaskun Mujika and Lur Usabiaga. Bego González was also there with sign language on Saturdays. 1,105 families saw the sessions live on YouTube, and they have already notched up 58,888 hits on social media.
On the literary side of things, two "Koadernoa" sports: writers, and creations by Basque illustrators. This produced original material on a daily basis, most of which dwelt on the theme of the lockdown and the phase we are going through these days.
Writers: Yolanda Arrieta, Iñigo Aranbarri, Juan Manuel Uría, Patxi Zubizarreta, Ander Izagirre, Arantza Urretabizkaia, Anjel Lertxundi, Xabier Etxaniz Rojo, Oier Guillan, Kirmen Uribe, Harkaitz Cano, Ana Malagón, Beñat Sarasola, Karmelo Iribarren, Aritz Gorrotxategi, Mariasun Landa, Fernando Savater, Juan Kruz Igerabide, Julia Otxoa and Luisa Etxenike.
Illustrators: Judas Arrieta, Yolanda Mosquera, Mikel Valverde, Ainara Azpiazu, Iraia Okina, Jokin Mitxelena, Sisters and the City, Arantza Sestayo, Elena Odriozola, Maite Gurrutxaga, Asier Iturralde Gastón, Paula Estévez, Marcos Navarro, Aitziber Alonso, Diego Besné, Sandra Garayoa, Iker Ayestarán, Rebeka Elizegi, Mikel Casal, Ane Pikaza, Marcos Navarro, Belén Lucas, Mattin, Inés Ayoon Cho and Mikel Antero. 25 graphic narrators offering some wonderfully ingenious creations depicting our current situation.
Not to mention the literary chats in Basque (Iñigo Aranbarri), Spanish (Amaia García), English (Slawka Grabowska) and French (Miren Garmendia). We must also make some mention of the youth challenge "Liburu Challenge", with Lorea Intxausti, Xanti Korkostegi and Markel Sainz.
On the scenic side of things, we created Antzokia Etxean, a Thursday-Sunday programme (coinciding with the largest audience for scenic spaces), at 19:00 h, where local artistes and creators provided short first-showing excerpts of their performances and/or creations for this new format; concerts, monologues, and choreography ... duration between 5 and 15 minutes. The big names in this section were: Martxelo Rubio y Sandra Ferrús, NODE, El Negro, Niña Coyote eta Chico Tornado, Gautena, Paul San Martín, Amagoia Lauzirika, Maren, Sara Zozaya, Verdini Dantza Taldea, Amaia Lizarralde, Ainara Ortega, NoaVD & Sergio Villar, Elena Setién, Aitziber Garmendia & Jon Plazaola, Iñaki Salvador, Kukai Dantza Taldea, Maribel Salas, Dani Iglesias, Tessa Andonegi, Aizpea Goenaga, Iker Lauroba and Sergio Nguema. They have notched up 47,351 hits on social media, and 1,067 live viewers on YouTube.
Some of these artistes also featured in Donostia Kultura's celebrations of International Book Day, International Dance Day and International Jazz Day.
Moving on to San Telmo Museum, we must mention the #STMLoMás initiative, where the star features have swapped their showcases for people's homes. Every Wednesday there was a 360º showing of their best performances, such as: "Argizaiola", the video "Berriro igo nauzu", "untitled" collage by Nikolas Lekuona, Otsagabia dance outfit (with the Otsagi dance group), paintings by Jose Mª Sert, and the Jineta sword. Details of each of these works were made available on the museum's Second Canvas app.
The museum paid tribute to José Luis Zumeta, who died recently, in a video with the sketch by María José Aranzasti, a historian and personal friend of the artist. Finally, the San Telmo Museum and Globernance also kicked off the virtual version of the annual European Dialogues, with Alberto Alemanno, Daniel Innerarity, Juanjo Álvarez, Mikel Mancisidor, Cristina, Garmendia, Maria Eugenia Rodriguez Palop and María Silvestre.
Turning to films, the Donostia Film and Human Rights Festival created its own channel on the Filmin platform, with a section in Basque; It teamed up with the women's association HEMEN to produce seven online shorts focusing on Human Rights, and a chat spot afterwards with Amaia San Sebastián, María Aizpuru, Emily Lobsenz, Ainhoa Urgoitia, Nagore Eceiza, Esti Urresola and Tessa Andonegi.
Larrotxene Bideo, Larrotxene Culture Centre's training and creation space, provided a number of video tutorials, along with film shorts and the mini-magazine Transmediazine. This featured live sessions, Larroetxean Zuzenean, for example, one based on the saga "Herriwatch, los vigilantes de la plaga", with Aitor Ormaetxea, Jone Ibarretxe, Paula Brezo and Mikel Abasolo; the short "1.33.10" and chat spot afterwards with Juanmi Cuesta; or "Erregea", with David Cuesta. 254 people participated in the courses and tutorials provided by Larrotxene Bideo.
The lockdown period also produced the radio magazine Ispilu Beltza, to replace the programme Bestalde. Presented by Oier Aranzabal, this continues as the mouthpiece of actors and cultural activities in our city, and it goes out Monday to Friday from 08:00 h to 10:00 on 107.4 FM, on several audio platforms and the Donostia Kultura Irratia website.
DKEtxean also built international bridges by taking part in similar initiatives. Donostia Kultura, with guests Juan Kruz Igerabide and Marcelo Utreras, joined in Europe At Home, a European cultural collaboration programme, along with thirteen other European cities. Additionally, REDELAE, the Euroamerican Scenic Arts Network, is organising the Festival of festivals "Your home is your stage" from 25 to 28 May, with two international productions that have featured in DKEtxean.