You are here
Gender Balance in Cultural and Creative Sectors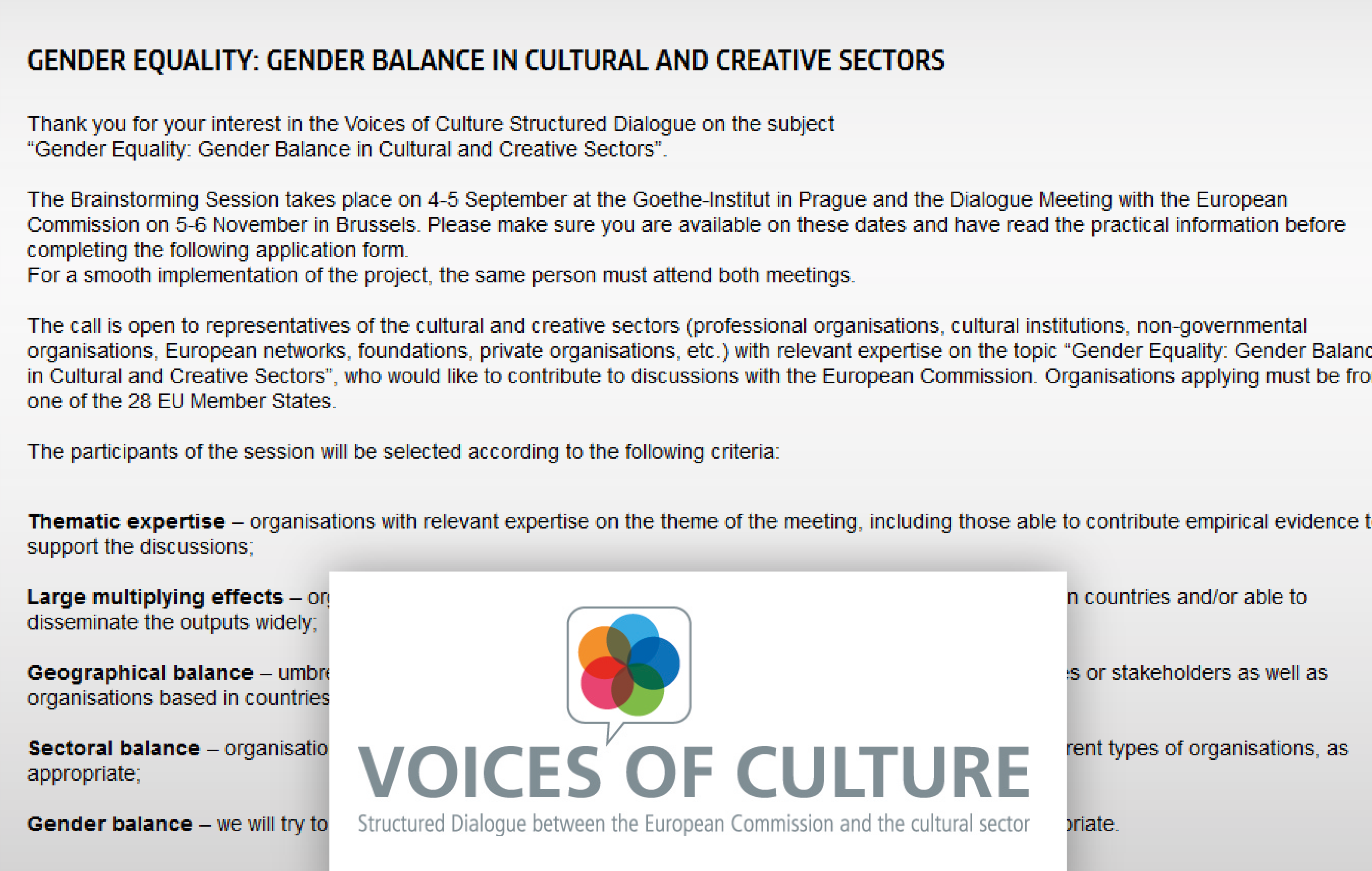 Voices of Culture is the European Commission's platform aiming at structuring a regular dialogue with civil society in order to respond to three strategic objectives, namely the promotion of cultural diversity and intercultural dialogue, the promotion of culture as a catalyst for creativity and the promotion of culture as a vital element in the Union's international relations.
Voices of Culture recently launched a call for contributions for the topic Gender Equality: "Gender balance in Cultural and Creative Sectors", which will lead to a Brainstorming Session (4-5 September 2019, Pragues, Czech Republic) as well as a Dialogue Meeting (5-6 November 2016, Brussels, Belgium), representing the opportunity for a group of around 35 European civil society stakeholders in the cultural sector to exchange ideas on this topic and to present these to the European Commission. The group will brainstorm in September 2019 in Prague, and then discuss the main ideas (to be summarised in a Brainstorming Report) with representatives of the European Commission at a Dialogue Meeting in Brussels in November 2019.
The call is open to representatives of the cultural and creative sectors (professional organisations, cultural institutions, non-governmental organisations, European networks, foundations, private organisations, etc.) with relevant expertise on the topic "Gender Equality: Gender Balance in Cultural and Creative Sectors", who would like to contribute to discussions with the European Commission.
Organisations applying must be from one of the 28 EU Member States, and apply before 14 June 2019 at last.
More info: http://voicesofculture.eu/2019/05/20/call-for-applications-for-the-topic...